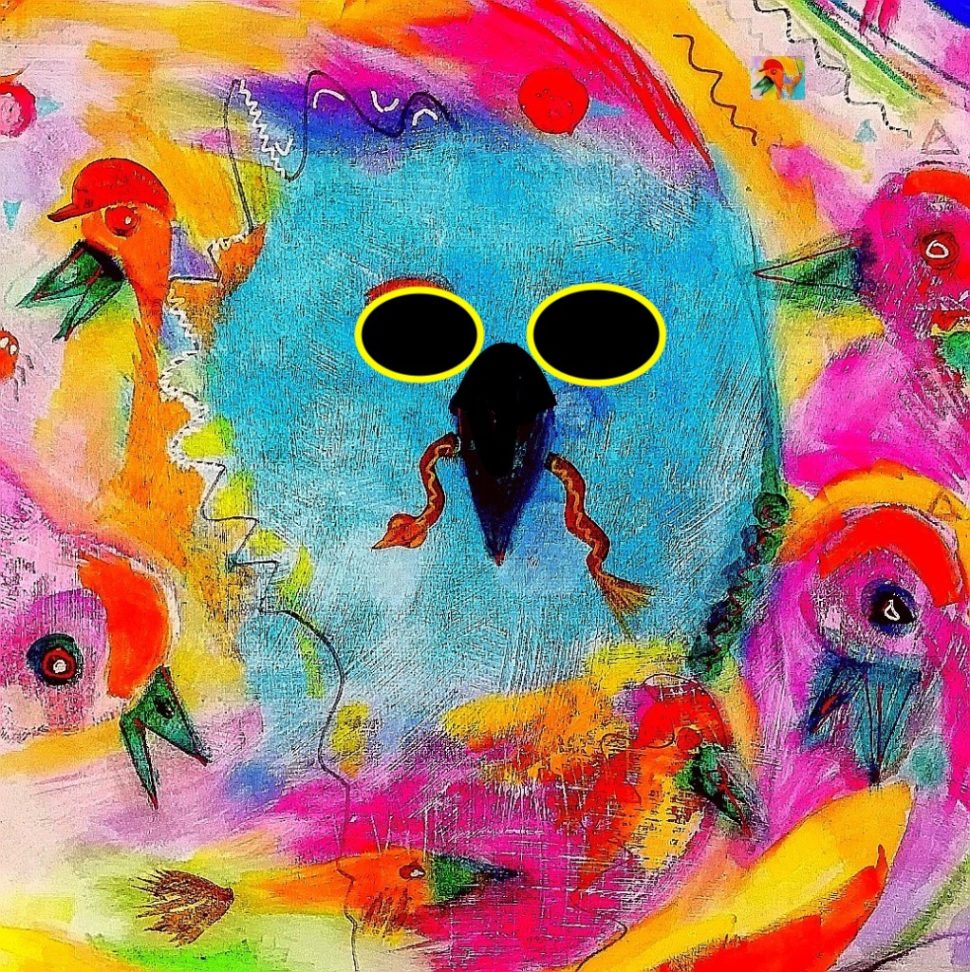 Title line quote from a Timbuk 3 song.
the image is a section of an acrylic painting. I used a canvas for the first time in the process. I processed the picture photo with the color correction of my computer.
career choice – the future's so bright, gotta wear shades
I had graduated from high school and had an idea about my future. I wanted to explore the world of birds, become a biologist. "You want to spend your life lying on your stomach on a desert island looking through binoculars. You can't tell me that". Obviously, not a good idea. My father shook his head almost angrily. I had made my idea known. Now it was his turn again. A dialogue. My father took the matter in hand, and immediately with a very hot tip. So a doctor, he said – there was a bit of envy in his voice – that's good. Surgeon, for example. "You earn good money there ("and you can build yourself a villa," added the architect's son, who was me). I don't know any medical doctor who doesn't earn well. Or engineer, can be very interesting. But if I recapitulate your Abitur grades in mathematics and physics? He was right in a way, of course. Or a lawyer, you're not so fixed, they're in demand everywhere, or – well, there are many others, but after all, you want to represent something in life, or else … or else. Yes, do you want to study art, my father asked in the paralyzing perplexity that had gripped me after my high school graduation. I am willing to finance your studies, but then you need a portfolio with examples of yourself and your talents, but you don't have a portfolio, right? You could still make one, but let's be honest, I don't think it's quite enough. With your talent. What I've seen of you so far hasn't convinced me that much.
A small pale green door had opened, but then a cold wind had slammed it shut again.
To study art, what an idea. What blissful, friendly immoderation lay in that thought? but I couldn't grasp it, couldn't hold on to it. The thought, too light and airy, drifted away, simply "blowin in the wind," as they sang in those days.
I'll just do law, it flowed out of me tough as lava, law, who knows, I thought not knowing …. it was a mistake, a disaster. The smell of the legal workrooms, their Kafkaesque joylessness, the long row of bound pronouncements and judgments, the long rows of shelves with the journals in which no poetry strayed, the studious cleverness of the fellow students, the beery fatuity of their fraternity evenings, which they sweated out on the days that followed in these rooms, they immediately rise from oblivion and become memories again as if it were only yesterday.
Translated with www.DeepL.com/Translator (free version)