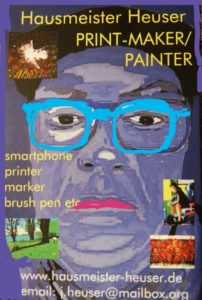 As the title bar indicates, I would like to make this website accessible to as many people as possible. Not only to those who speak my language, but also to all those who appreciate the INTERNET because it weaves so many different people together in a communicative way. I have therefore decided to make this site bilingual. First of all, I have written articles partly in English, partly in German. They are written in the respective language as they came to my mind. Yes, it is indeed so. Sometimes I even think in English, although I did not have any further lessons in English after leaving school.
It must have been the music of my young years that provided the regular impulses from the English language. It is this seemingly endless abundance of great songs that have lived on in my head ever since and have accompanied me all my life. But also the interest in the songwriters made sure that I read some books in English, even if I didn't know all the vocabulary. Since then I simply have the feeling that my mother tongue in this world is not always sufficient to say what I think and feel or how I thought and felt some experiences. When, in my twenties, I was still studying German language and literature without much enthusiasm, and at that time I expected to be trained as a writer, at least on the side course, I always had the title of an essay in my head after the first linguistic seminars: "English words for German feelings", in which I wanted to follow the traces of this feeling. It was an absolute certainty for me that the yeah, yeah, yeah of the Beatles meant something different than the yes, yes, yes, the German translation. I felt in a kind of synaesthetic perception that this yeah, yeah, yeah was closer to me. This feeling belonged to another world, one in the middle of which there had been no concentration camps and no war. A world that seemed to show a way out of the magnetic field of a monstrous past by reanimating hope and the return of the future. Yeah, yeah, yeah meant to be on the way to a new freedom. "Freedom" was sung by Richie Havens on Woodstock's stage. And the singing expressed a wish, but also the feeling of liberation itself, so I hope that through this bilingualism as many people as possible can get an idea of this website.
But now I would like to let them off the leash despite some To Do's. I don't want to be like the band that never manages to get out of the practice room and then breaks up shortly before the first gig because of musical differences. But I also accept one or the other non-perfection. Perfection demands are killers. On the other hand, every serious criticism is a teacher. At the same time criticism is a challenge which is fun and through which this website will develop. Who knows where. I enjoy painting, writing, being creative. Panta rhei. Everything is in flux, in motion, an adventure. In this sense…..
Let's start with the announcement of a start: "There's something I want to tell you…." is the first line of a Ronnie Lane Song for the Small Faces, one of the great sixties groups, and while waking up this morning this song with these lines came to my mind. The memory was kickstarted by another line I remembered, that started a book about how to write lyrics for popular songs. Andrea Stolpe, a songwriter herself and a teacher at Berkleemusic's songwriting program in the USA, started her reflections in the opening article with the statement, "if you are trying to write a song, you're holding the pen of an artist"*. Some time ago I started to translate this book into German, just for the fun of it, but since the first time I had read this sentence the words made me think about the implications. And every once in a while the lines come to my mind.
I our context here my conclusion is as follows: What made sense for beginners of songwriting, makes sense for a beginner in visual arts too. In the very moment you try to paint a picture, with "the pen of an artist" in your hands, you take the perspective of a painter, any painter. You only can do so by making not only decisions but artistic decisions. If you act like or act as a painter, you become an artist before the first contact of your brush with the canvas happens. "Becoming an artist" means, taking a role in a new play.
I took this role not quite two years ago, or should I say the role took me. Sometimes it feels like that. No matter what, I called this character hausmeister heuser. This site is his site.
The occupation of my retired self by the hausmeister heuser character was made possible by a 24 hour-technology, that has invaded our everyday life, that's at hand every day and every night. It's the mobile or the handy as we started to call it in Germany many years ago. It's a perfect tool for a start. In some way you have the canvas, the brushes and the colors. And you have a teacher as well. Because every picture you have collected on your memory card is a challenge. Follow the lines of the photo's image or cross the lines, take the most similar colors or change the colors at all, try to paint every grain of sand by blowing a picture up or concentrate on the essentials like dark and light. Try this, do that, don't stop. see what happens. Be simple, be complex. Stay receptive, find your style, deny every style. Don't accept such border lines as qualifications. You are no technician, who can do wrong or fail, you are an artist! If you want to! And your results are art. This is the real way to Pop-Art. Not if you deal with popular and everyday objects like canned soup, but when you, the people on the street, let the creative self free that's living and longing in every one of us.
On this page you can follow the individual case of hausmeister-heuser, what happens if you try something like this. If you are interested, this is your invitation. Come along, or as we have learned today in the meantime to say: Follow me. (small addition: If my contributions were in German, I have transferred them in the meantime first with a translation tool (www.deepl.com) into English. I was thrilled how good these translations were. Also the texts translated from English into German are very good. A little fine-tuning will follow. But I want to do that bit by bit on the already living body of the website. (It is for the reader, as in the meantime also for me, no longer really to be kept apart how far the tool has worked and where my formulation still stands. But I don't want any grades for my English either. The main thing is that what I want to say arrives. The German text is in any case mine )
*Popular Lyric Writing. 10 Steps to Effective Storytelling, Berklee Press 2007