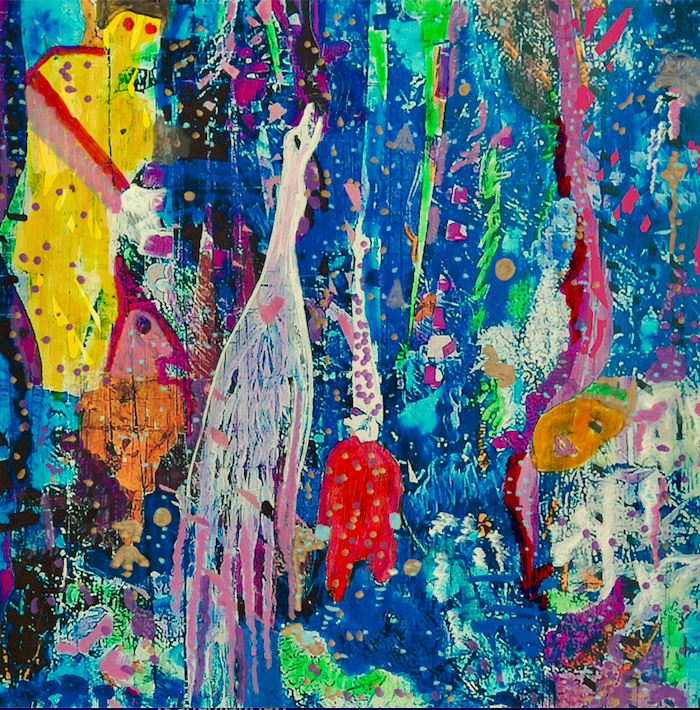 To cut a long story short: The image above began abstractly and ended "terribly". It does not transport a statement, the only sense in this image is that it is not a non-image, so it is simply a picture that has been haunted by the perpetuum mobile of associations that rotates within us and reacts to colors and lines. These associations have only one goal, to free the abstract picture from its objectification and to lead it back into form. When I gave in to this urge, something emerged that was concrete but remained enigmatic. But these may be pictures. Perhaps these are even the interesting ones. Perhaps this may be also the way out of the impasse that I will talk about in the following text.
Now to my status quo: : I must admit, I haven't been really idle lately, but I was nevertheless temporarily in doubt whether I should continue. I had two exhibitions in the last months. That was more than I had ever dreamed of. But the Corona time had gotten to me and degraded my second exhibition to a ghost event. A few days before the lockdown I had hung up my paintings, but the vernissage was already suffering from the threat of a pandemic.
The restriction of movement during the lockdown was productive at first, but little by little I had to realize that I lacked inspiration and a lively life and experience and that my creative impulses were becoming more and more sluggish. I reacted with a kind of resistance and started my Corona Sessions, which I have documented regularly on this website. Everything I had done before, I threw overboard. Old prints got their bread of mercy and became the basis of my new pictures. They almost disappeared under the acrylic layers, which I filled, wiped, scratched, etc.
What came out, in this radical change of my picture-making strategies, was largely abstract, that was also the intention, but it was also surprisingly demanding, and in time irritating. At some point I had the feeling of running into a dead end, because no idea of the next goal came into my mind…So according to the motto, abstract as last bastions then it's over.
But seen in daylight, this elation is like doubting everything, it only follows the normal phases of a development process. That's exactly how it works. So, it means staying relaxed, despite Corona and to the work table, to have fun, as my Jürgen-Klopp-App smugly whispers into my ear. So let's continue. First of all tidy up on this page. Let's see what I/we can come up with and present some more pictures from the last time. It can't be that hard, if you had heard it as a child.
Translated with www.DeepL.com/Translator (free version)