It was Christmas Eve 2017 early in the morning. My daughter and her boyfriend were on their way from Cologne to Lüneburg. It was shortly after five and the heroes of early rising sent a photo of a S-Bahn station abandoned by people. I liked this photo. I had a little time and started painting right away. This is one of my first pictures that didn't depict people, but circumstances. And right here I already detached myself from the circumstances. Actually only the lines of flight remained, while the buildings got more and more a life of their own, and the Cologne Cathedral was nowhere to be seen and the moon even less. One knows this from me in the meantime. A little rough this picture, but I still like it.
Don't Jump On Every Slow Train
I'm in need of some affection / of one good word or two / since the day that you have left me / I can't help feeling blue
the ones that once were good friends / have vanished in a mist / nobody's there to talk to me / been so many nights like this
last day i called my mother / she seemed my last resort / boy, she said, if you want advice / I'll cut this story short
refrain :  Don't jump on every slow train / if you're on your way back home/ sometimes it is worth waiting / on a another train to come / don't jump on every slow train / protect your heart and soul / take the train named love & passion / to find the one that makes you whole
women seem to smell I am hungry / they grab me like a steal / but I don't like the way they look / and don't like how I feel
last night I ended up in some bed / felt her flesh and heard her sounds / it felt like b-movie time for me / while she thought love was found
woke up it's dark, back on my feet  / everything had taken wrong turns/ I was on the run from too much love / while my fires inside still burned
across the lane, the park at dawn / I sat down on a dewy bench / and I recalled what mother said / birds watched me from a fence
Don't jump on every slow train / if you're on your way back home / sometimes it's worth waiting / on a later train to come / don't jump on every slow train / beware your heart and soul / take the train named love & passion / to find the one that makes you whole
from my eyes some tears were running / still felt the hurt, the pain / but felt sure too about what I want / yes'o yes I'll fall in love again
Won't jump on every slow train / when I'm on my way back home / sometimes it's worth waiting / on a later train to come / won't jump on every slow train / I'll beware my heart and soul / my train will be love & passion / and I'll find you who makes me whole
Don't jump on every slow train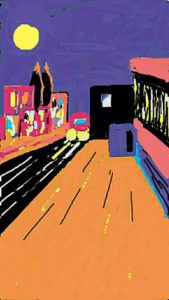 This lyrics above are not about the protagonist of the following story and some talking about for good measure that follows the story, but thinking about him once got the song rolling. Nevertheless, it had to end much more hopefully.
There's this story about a friend of a friend. He had told him in confidence that last weekend he had once again lived up to his reputation as a conqueror. He had picked out this young woman (perhaps he also said young girl, he himself is not so young anymore), who interested him especially that evening, had successfully courted her and she had come with him to his apartment and there also to his bed. There would have been too few exciting sexual acts and he would have fallen asleep. When he awoke at dawn, his bladder function also apparently showed the first signs of age-related weakness, he had seen the young woman lying in his bed and the pale morning light did not grant the calm and deeply breathing body the grace that the candlelight and his own alcoholically induced clouding of perception had granted the midnight moment, and from this nothing formed in his thoughts the formulation that he had been lying beside a whale. At the same time, he noted an amnesia. The pressing question of why it should have been precisely this woman that night left him in perplexed silence, which condensed into a feeling of dizziness. He sat down on the chair that stood by the bed.  All around him lay the textiles scattered, which had been hurriedly wiped off in a ridiculous frenzy. For this way his nocturnal desire appeared to him already after the few hours that had passed since then. He tried to collect his clothes as silently as possible, sneaked to the small kitchen of his apartment, took the house key from the table and left the apartment immediately. In this case a text message had to be enough for the next few hours, he calmed emerging feelings of guilt. The fear that she might wake up by some coincidence before he was out the door made him panic for a moment.
Arriving on the street, the cold breath of the fresh morning air returned to his mind. But in his head, thoughts and sensations are spinning like a hamster wheel. The unconditional love he dreams of, and the love he sets out every weekend to find, is also his greatest enemy. He does not trust her because he does not know her, and he does not get to know her because he does not trust her. Her perpetuation would deprive him of the moment of gratification that occurs every weekend in that fleeting second when an alien being gives in to his wooing, confirms to him his power to cross the border at any time, behind which he experiences the gestures of affection that he never received as a child. But although the affection of another person could make him happy, he chooses each time at the end the power that is given to him by the certainty of his art of seduction. In this way, he does not have to give himself over to something else, with the constantly felt danger of failure, but confirms himself solely through his own actions, with which he succeeds in increasing his self-esteem in the waking moments of a night or a weekend. What sweet triumph, what vain, transient intoxication. It cannot be repeated as an act of seduction, only as a repetition of the act. The focus of the relationship idea on Eros is a circular farce, because the gaze is always directed at one's own feelings, which mainly rely on the arousal potential of strangeness. Every successful seduction is the beginning of the end of strangeness and the kick of these moments becomes an addiction that can no longer be substituted by a lasting relationship. So what then? And, isn't it really like that? Isn't a relationship idea conceivable that is based on mutual affection, that strives for a WE, that makes sexuality experienceable as intimacy. In the diction of today: while the eroticism of seduction and seduction is based on inequality and the unlimited availability of raw materials, the intimacy-centered partnership appears to be almost climate-neutral, because the curiosity about the sexual personality of the partner uses energies that are also inherent in the system.