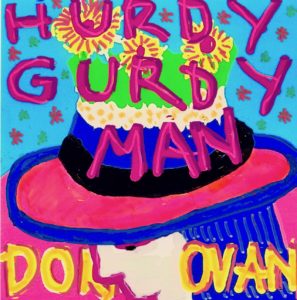 Hello dear visitor, I would like to point out that this text is longer than most others. Besides, I'll come to the title record only at the very end.  Before that I tell this and that, which is not related to the record in any way, it just came to my mind. That's how it is when no one stands next to you and says: janitor, you deviate from the subject, we're discussing. But maybe it has to do with this record after all, at least in the moments when I listen to it, and perhaps also with how I listen to it. With what I feel when I hear them. But perhaps this is also an example of how we all listen to music, or many of us, or why we prefer to listen to one music rather than another? Because it has connected with our life. And of course this life has also connected and connects with many lives. So that we recognize the connections between our so different lives. Something general. Something in common. So I don't want to apologize for the length, but I want to have pointed it out. So the decision must always be made by you, the reader. Oh, oh, I don't want to be in your skin now or on the other hand: why not?
It was the year 1968. I had just graduated from high school and had gone with my three school friends to Domburg to the Walcheren peninsula deep in the south of Holland to celebrate the end of this period of my life and to shake off the stress of the last half year and then dare the start of student life.
When we arrived in Domburg, the campsite was still empty. Only three or four tents stood on a relatively large area in wide distances. Small tents equipped with at best two globetrotters. The weather was modest. Rather cool than warm, and small rain showers annoyed us while setting up a historical tent from some parental attic that consisted of two spacious sleeping tents connected by a cubic middle section. Here you could stand upright and here we built our folding table with four folding chairs. After the work was done we made a short tour through our "hunting area" for the next three weeks, but nowhere was anything going on, and it was very difficult to imagine where anything would ever happen here. The first doubts began their gnawing day's work. We bought a few beers, drank moderately, and slept through the first night undisturbed.
The next morning we were woken up by a portable radio that had started its morning work in the nearest tent. A strong rhythmic music, a little complicated, at the same time seemingly meaningless lyrics, a rudimentary and catchy melody and we heard for the first time what should overrun the pop charts in the next months. YUMMY YUMMY YUMMY, I'VE GOT LOVE IN MY TUMMY. That night Bubble-Gum Music was born to us and we witnessed its proclamation. These phonetically undemanding songs seemed to lure the youth of the world back from the streets into the children's rooms, and for a few weeks or months this autumn this highly infectious musical childhood disease had me under control. It was the party time in my life and this was party music. A kind of early techno idea. When Beggar's Banquet of the Rolling Stones set new standards for rock culture in December at the latest, I was completely healed again. So for example, the glitter craze never got me.
The sun had come out early and in the course of the day summery warmth developed. Since in Germany and Holland the holidays began on this day, a long queue of cars formed on the road that led past the camping site, and in the evening the area was completely in vacationers hands. However, it was obviously not the youth of the world who met at this campsite, but a kind of German-Dutch family alliance. Our holidays were a complete success despite these circumstances, at the latest on the beach one came into conversation with many contemporaries of both sexes, and from a connoisseur of the local pub world we received the tip, however, once the restaurant "La Cave" to try out in the nearest city. The best music in this area is played there by far. If that wasn't a good reason. One evening we went on our way. As it turned out, La Cave was one of those places that were typical for a time when you often thought you were listening to "underground music" and often had to descend into a cellar to do so. Not without effort we had found the club after some searching and went down the numerous steps. We had the feeling to approach step by step a boiling cauldron: There were voices, tobacco smoke clouds and unknown sweet scents wafting towards us and some song was fading out without an exact identity. We opened the door, pushed a heavy felt curtain aside, the babble of voices swelled, and a new song began to float its essence in this magical space. An echoing acoustic guitar, a softly intoning, vibrating voice immediately attracted attention and then the sound became more powerful without giving up transparency. It was the title song from Donovan's Hurdy Gurdy Man that sounded out of the huge speakers that floated just above the heads of the teenagers in the room, secured to the wall and ceiling by heavy chains. I hadn't known until that moment that music could be so loud, so total and so intoxicating. Something historical had happened to me and Donovan and his new song became a fixed star in my history of listening. Later I learned that the musicians who supported Donovan on this recording under the guidance of producer Mickie Most entered the world of rock only one year later as Led Zeppelin. and reached the nimbus of one of the style-forming supergroups of rock. But this is another chapter. So as soon as I had the money together, when back home I got the LP and found other fascinating song pearls, which were sound pearls to my ears at the same time, like the "Get Thy Bearings" crowned with a saxophone solo, the Indian enchanted "Tangier" and the seemingly simple, almost mystical "The River Song". Then there was another welcome addition, the soon to become next hit single for Donovan "Jennifer Juniper" and more songs, which of course also contained psychedelic and jazzy passages, which reflect the moment when being a hippie had not yet become a swearword. Great, timeless and enhanced by the additional bonus tracks in the last re-release, because they healed the distortions caused by the release policy of American labels with changes in the song selection of the English original setting. I have given this record a place of honor in my collection! Maybe, after listening, you can relate to my decision.