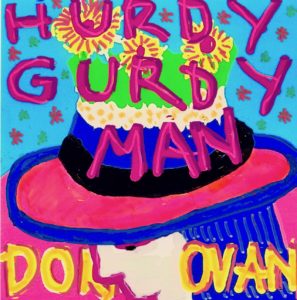 Hello dear visitor, I would like to point out that this text is longer than most others. Besides, I'll come to the title record only at the very end.  Before that I tell this and that, which is not related to the record in any way, it just came to my mind. That's how it is when no one stands next to you and says: janitor, you deviate from the subject, we're discussing. But maybe it has to do with this record after all, at least in the moments when I listen to it, and perhaps also with how I listen to it. With what I feel when I hear them. But perhaps this is also an example of how we all listen to music, or many of us, or why we prefer to listen to one music rather than another? Because it has connected with our life. And of course this life has also connected and connects with many lives. So that we recognize the connections between our so different lives. Something general. Something in common. So I don't want to apologize for the length, but I want to have pointed it out. So the decision must always be made by you, the reader. Oh, oh, I don't want to be in your skin now or on the other hand: why not?
It was the year 1968. I had just graduated from high school and had gone with my three school friends to Domburg to the Walcheren peninsula deep in the south of Holland to celebrate the end of this period of my life and to shake off the stress of the last half year and then dare the start of student life.
For the sake of honesty: I had done very little for these Abitur examinations. At some point I had lost the desire to go to school quite soon in the middle school. For example, I had "my" work of world literature for which I should have trained as a specialist up to my A-levels – it was the picaresque novel "The Life and Opinions of Tristram Shandy, Gentleman" – which was published in the period of 1759–1767 – which I had read only up to page 48 (the bound Reclam edition counts 792 pages) and then put it unnervedly in the corner and challengingly forgot my fate. That was not my humor, and the tapeworm sentences, which sometimes seemed longer than a whole book page, made me dizzy. Written obsession with detail was a horror to me. If there is a tension in a book, suspense by manic enumeration ruined everything. Perhaps I also had the intention of expressing myself in this way when the worst came to the worst? D, an intense idea of the book was almost immediately available, although I had never picked it up again until the moment I brought it to the antiquarian bookshop. What did that have to do with me, I asked myself then, with my life? I had written a few more keywords out of literary encyclopaedias, but they didn't stick. Everyone in my class could pick one from a list of important books in the history of world literature, which I remember as containing 50 proposals. These books were supposed to be presented book by book in a lecture to the class before graduating from high school, but time was short (we lived through the short school years) and there were some who volunteered because they had already finished their lecture. For understandable reasons, I had held back from registering. The fate of my class teacher, who knew nothing of my ignorance, meant it well with me and left me to my side in the subjects English and German. Pooh! So I was spared a disaster. I was then allowed to bring something forward in philosophy, after all everyone had to go to the examination room and enter it, it was all about initiation. I knew that. I had turned my attention to the topic "sense and nonsense of Abitur examinations" in my last essay of reflection of my school time and I even got the honour to be allowed to read my essay to the assembled class at the return appointment, because I had written so courageously and linguistically versed – and for a moment school had been fun; for stylistic reasons, because of my too long sentences, unfortunately only a 3+" (for my too long sentences, unfortunately only a 3+). I would have discussed a pros and cons, but this was too tendentious. So read aloud yes, but missed the middle class, so devaluation . Unfortunately! "Also a 3+ is a good grade", but it had the name "satisfying" (typical, school). My topic in the oral Abitur was the historical materialism in the simple interpretation of Stalin as instructions for use and his reforms in agriculture through the glasses of Wolfgang Leonhardt. I remembered how it started. It was a temporary highlight in my school career that there should be philosophy at some point in the somewhat improvised high school period, but the matter was quickly settled. Because there was no philosophy teacher, the position was filled with a Catholic parish helper. I was trying to get interested I was constantly reading in my father's "Spiegel" journals about the philosophical discourses at the agitated universities, and I was hoping for something like an initiation or even a connection to what was happening out there all over the world, but nothing like that … We began with the parable of the cave, the discussion of which, continuing over several hours of schooling, increasingly weakened the interest of my classmates and eventually collapsed completely. When our teacher then fled to the next topic and Marx had also been mentioned, hope germinated in me, and I tried to start over again, which later led to my nomination for the Abitur examination in this subject , but against a wall of silence and without the aura of any original text that one could hold in one's hand, all participants were happy when it was over.The examination in philosophy was a tough question-and-answer game with foreseeable results. An upgrade to a 2 was not possible with my performance. The day before I had learned that I should get to philosophy, had also taken a little motivated look at Leonhardt's book. But I lacked the drive , because an achievement that could have led to an upgrading was not possible, and on the other side my rudimentary knowledge protected me from the devaluation, so I kept my 3 in this minor subject, and I was through with it. I had passed the Abitur.  Then came a rather pale graduation party. It took place in the Erholungshaus, a cultural building that the Bayer company, which is omnipresent in Leverkusen, had donated to its employees and to the city a long time ago. One shook one's hands again and a few well-intentioned phrases changed sides: The school orchestra had supplemented the small speeches, which avoided any confrontation, with performances of easily playable classical works. The school-leaving certificates had been handed out, a few more glances and wishes. So to good success Mr. Heuser. Do it well. Maybe at a class reunion …. . / Yes, thank you, thank you very much. Maybe, yes – why not … Goodbye. Credits, quiet music from the off. That was it.
I had only rarely come close to myself during my school years. Who was I ? What would I be able to do if I had actually felt an interest in something? What were my interests, my talents? Anyway, let's get out for now. It was noon, the celebration was over. no mores wereno longer to be expected. The sun was shining, the summer had begun and I rode the four kilometre long route home by bike for lunch one last time, just as I had basically done for the last 9 years. A lot had happened outside in the world from 1960 to 1968, but almost none of it had penetrated my school and thus my lessons.
Now back to our trip. When we arrived in Domburg, the campsite was still empty. Only three or four tents stood on a relatively large area in wide distances. Small tents equipped with at best two globetrotters. The weather was modest. Rather cool than warm, and small rain showers annoyed us while setting up a historical tent from some parental attic that consisted of two spacious sleeping tents connected by a cubic middle section. Here you could stand upright and here we built our folding table with four folding chairs. After the work was done we made a short tour through our "hunting area" for the next three weeks, but nowhere was anything going on, and it was very difficult to imagine where anything would ever happen here. The first doubts began their gnawing day's work. We bought a few beers, drank moderately, and slept through the first night undisturbed.
The next morning we were woken up by a portable radio that had started its morning work in the nearest tent. A strong rhythmic music, a little complicated, at the same time seemingly meaningless lyrics, a rudimentary and catchy melody and we heard for the first time what should overrun the pop charts in the next months. YUMMY YUMMY YUMMY, I'VE GOT LOVE IN MY TUMMY. That night Bubble-Gum Music was born to us and we witnessed its proclamation. These phonetically undemanding songs seemed to lure the youth of the world back from the streets into the children's rooms, and for a few weeks or months this autumn this highly infectious musical childhood disease had me under control. It was the party time in my life and this was party music. A kind of early techno idea. When Beggar's Banquet of the Rolling Stones set new standards for rock culture in December at the latest, I was completely healed again. So for example, the glitter craze never got me.
The sun had come out early and in the course of the day summery warmth developed. Since in Germany and Holland the holidays began on this day, a long queue of cars formed on the road that led past the camping site, and in the evening the area was completely in vacationers hands. However, it was obviously not the youth of the world who met at this campsite, but a kind of German-Dutch family alliance. Our holidays were a complete success despite these circumstances, at the latest on the beach one came into conversation with many contemporaries of both sexes, and from a connoisseur of the local pub world we received the tip, however, once the restaurant "La Cave" to try out in the nearest city. The best music in this area is played there by far. If that wasn't a good reason. One evening we went on our way. As it turned out, La Cave was one of those places that were typical for a time when you often thought you were listening to "underground music" and often had to descend into a cellar to do so. Not without effort we had found the club after some searching and went down the numerous steps. We had the feeling to approach step by step a boiling cauldron: There were voices, tobacco smoke clouds and unknown sweet scents wafting towards us and some song was fading out without an exact identity. We opened the door, pushed a heavy felt curtain aside, the babble of voices swelled, and a new song began to float its essence in this magical space. An echoing acoustic guitar, a softly intoning, vibrating voice immediately attracted attention and then the sound became more powerful without giving up transparency. It was the title song from Donovan's Hurdy Gurdy Man that sounded out of the huge speakers that floated just above the heads of the teenagers in the room, secured to the wall and ceiling by heavy chains. I hadn't known until that moment that music could be so loud, so total and so intoxicating. Something historical had happened to me and Donovan and his new song became a fixed star in my history of listening. Later I learned that the musicians who supported Donovan on this recording under the guidance of producer Mickie Most entered the world of rock only one year later as Led Zeppelin. and reached the nimbus of one of the style-forming supergroups of rock. But this is another chapter. So as soon as I had the money together, when back home I got the LP and found other fascinating song pearls, which were sound pearls to my ears at the same time, like the "Get Thy Bearings" crowned with a saxophone solo, the Indian enchanted "Tangier" and the seemingly simple, almost mystical "The River Song". Then there was another welcome addition, the soon to become next hit single for Donovan "Jennifer Juniper" and more songs, which of course also contained psychedelic and jazzy passages, which reflect the moment when being a hippie had not yet become a swearword. Great, timeless and enhanced by the additional bonus tracks in the last re-release, because they healed the distortions caused by the release policy of American labels with changes in the song selection of the English original setting. I have given this record a place of honor in my collection! Maybe, after listening, you can relate to my decision.